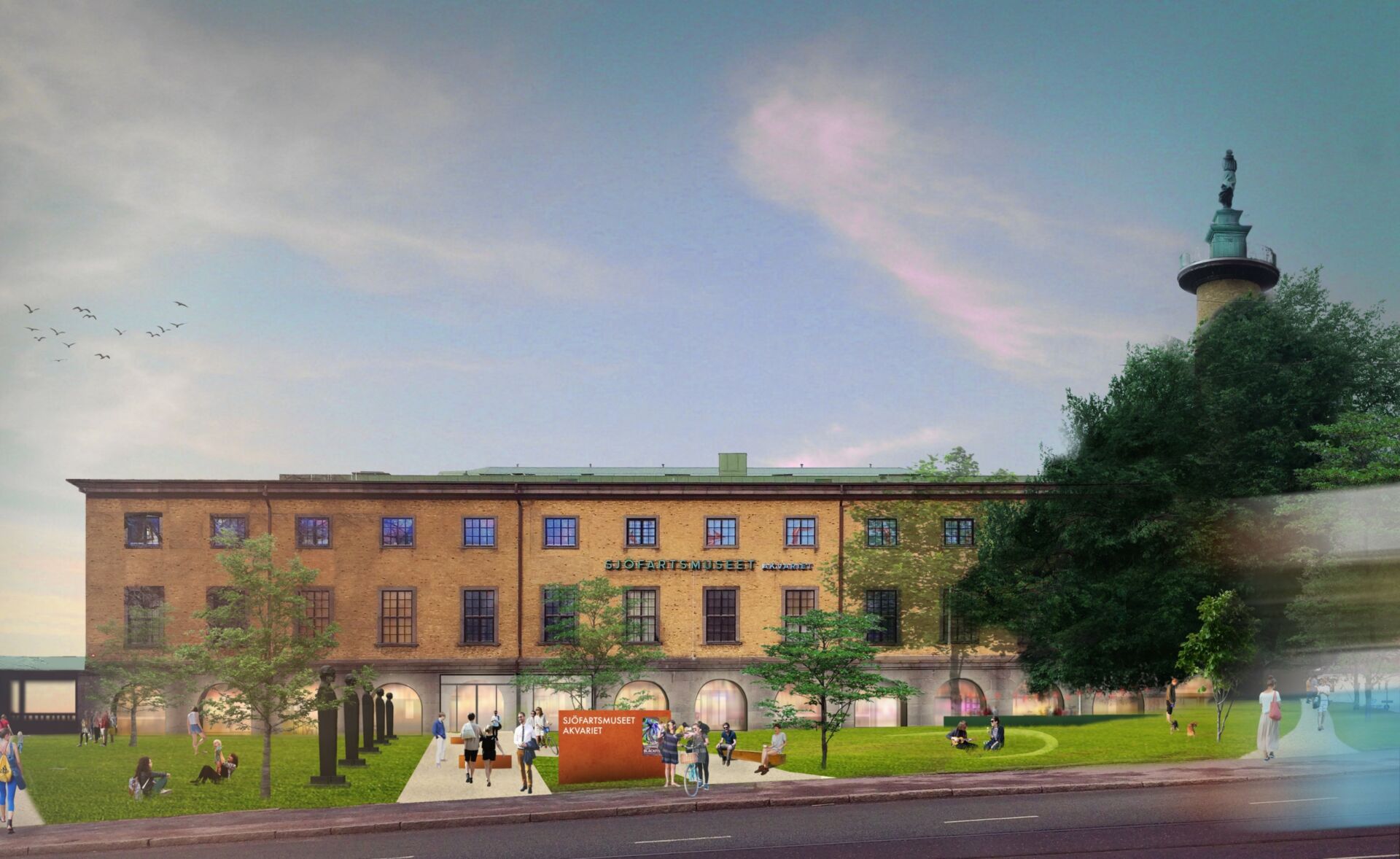 Why a renovation?
The Maritime Museum and Aquarium was inaugurated in 1933 and is in great need of measures to improve standards, such as better visitor flows, improved accessibility and a better work environment for the employees.
The timeline
Jan 2019 – Dec 2020 – The construction process occurs.
Jan 2021 – 2022 – Move-in and exhibition construction.
2022 – The Maritime Museum and Aquarium reopens.
Note that the timeline is preliminary and subject to change.
What will change?
The renovation includes moving the aquarium out of the museum building and into a new, ultra-modern facility under the ground in front of the museum, opening up a new entrance facing Karl Johansgatan, and installing new stairs and lifts to increase accessibility. The Gamla Varvsparken park in front of the museum is a lung in the city and a pleasant place for nearby residents and visitors to sunbathe or picnic in. When the renovations are finished, the green spaces will be bigger than they are today. A new café may have outdoor tables in the park during the summer.
The following measures are among those to occur before the reopening:
• A new aquarium of approximately 1,100 square metres and with 10 times as much water volume as today will be built under the park in front of the museum.
• Fish and other animals will be able to move into the new large water tanks.Higab and GAJD arkitekters' vision of the new aquarium.
• The green space will be retained and expanded by changing the transport routes and paths.
•The main entrance will be moved from the west gable end to the south long side facing Karl Johansgatan.
• The café will move to the south side facing Karl Johansgatan.
• The arches in the façade facing Karl Johansgatan will be glassed in and let light into the new entrance hall.
• Two new lifts will be installed: one in the entrance leading down to the aquarium and one going up to Levels 2 and 3 in the eastern section of the building.
• Two new staircases will be installed, both in the new entrance hall. One will lead down to the aquarium and the other up to the lecture hall on Level 2.
• New exhibitions will be created on Levels 1 and 2 and in the aquarium.
• The original entrance and Hall of Remembrance on Level 2 will be refurbished.In addition, after the reopening in 2022, the project will continue right up until 2025.
Planned measures include a refurbishment of the permanent exhibitions and other activity areas on Level 3.